Presents
Multiple Best in Show & Reserve Best in Show
Silver GCH. TaraDells Silent Leader, HT
"Tank"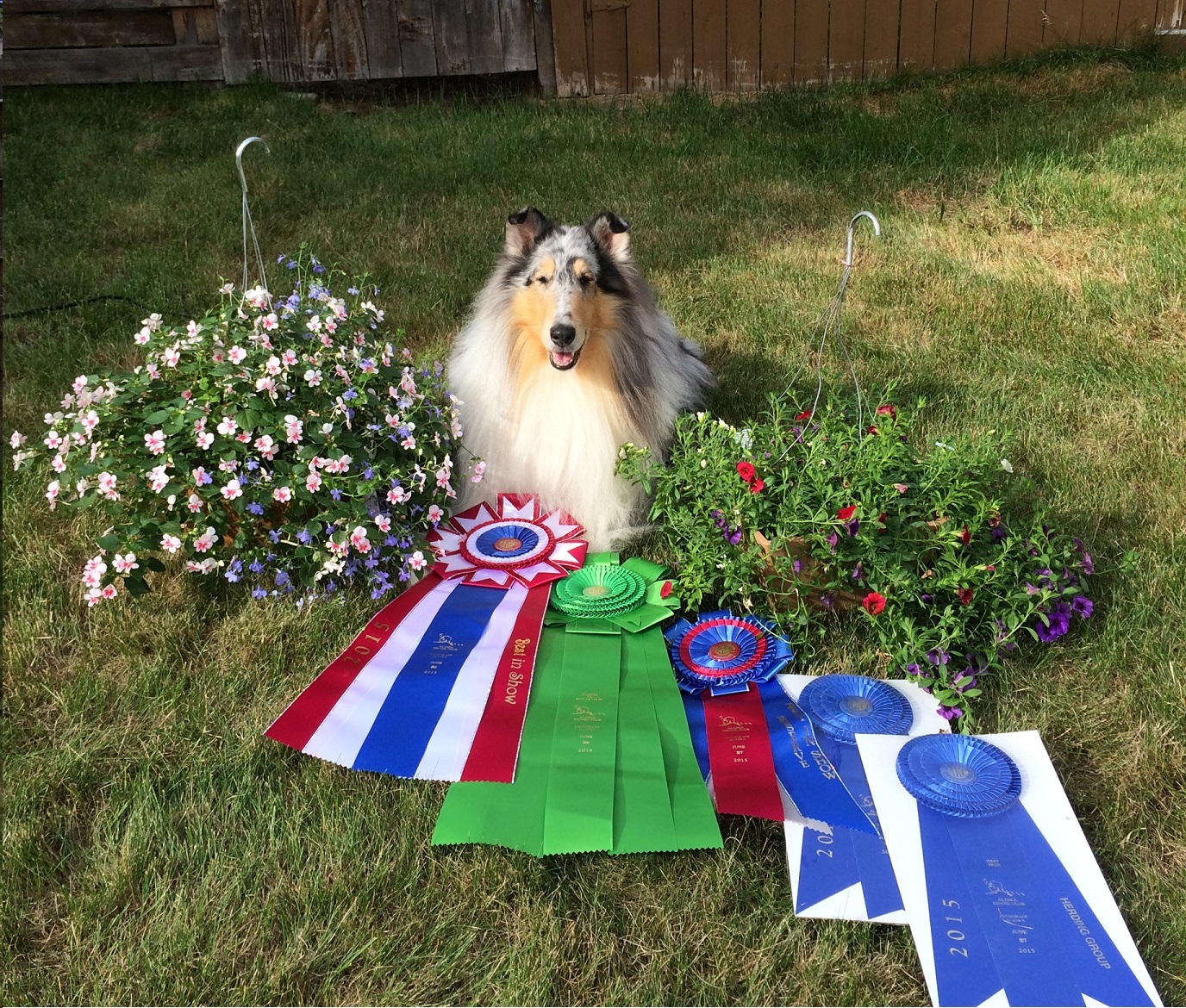 Sire: CH. Highcroft Lead The Way
Dam: Silver GCH. Highcroft Hush Hush
Born: May 7, 2009
Bred By: Courtney & Andrew Dowling & Cheryl Mallonee
Owned By: Courtney, Andrew, & Lindsey Dowling, Sean Mallonee
OFA Excellent Hips / PRA Normal / DM Clear / Mild CEA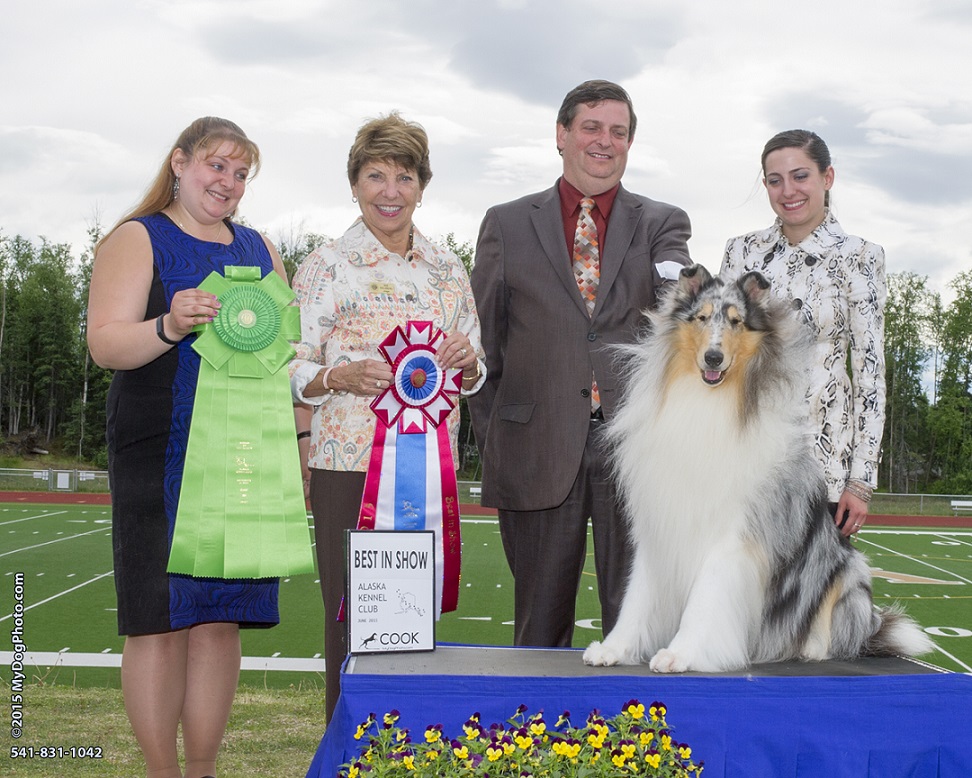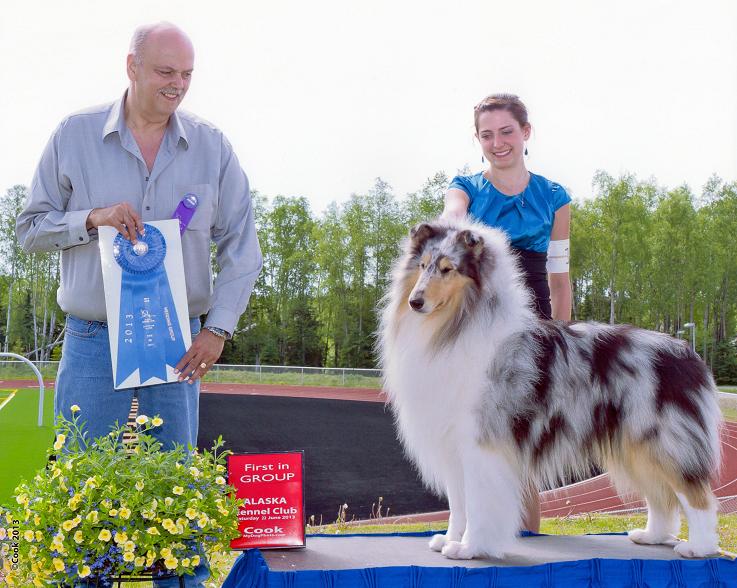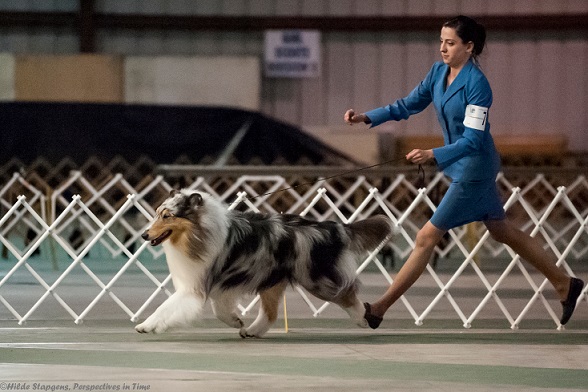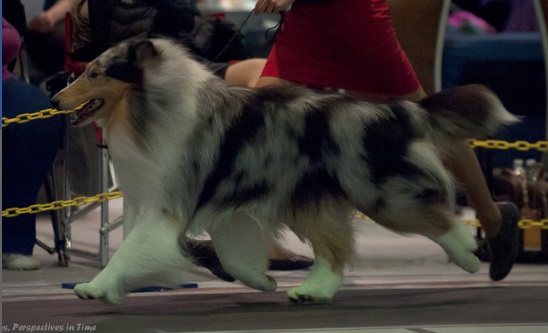 Lindsey and Tank on the move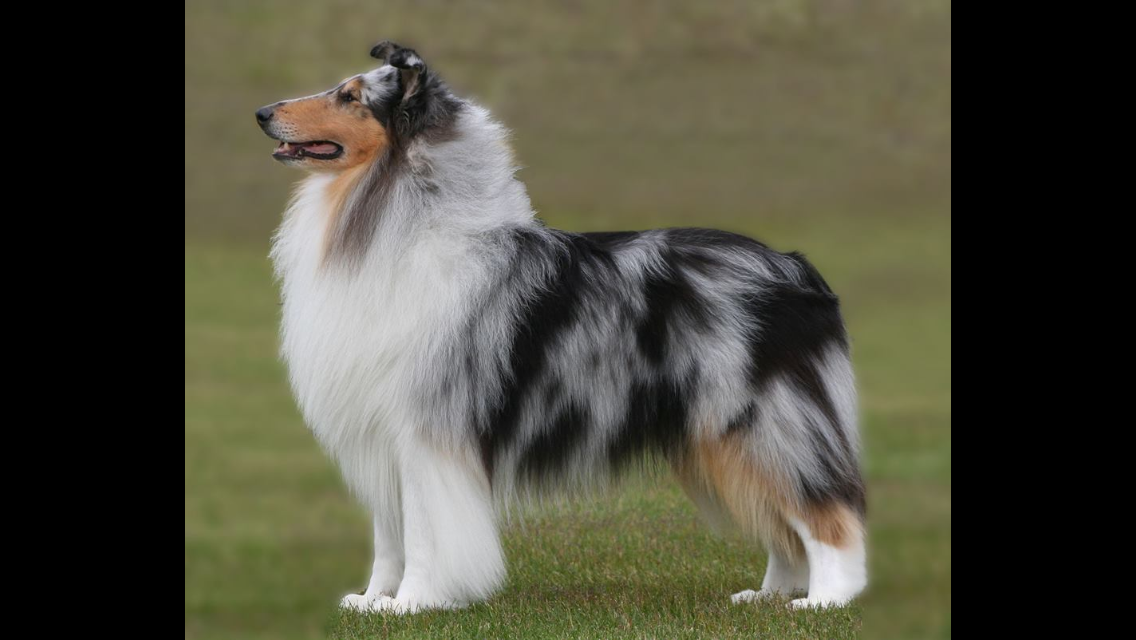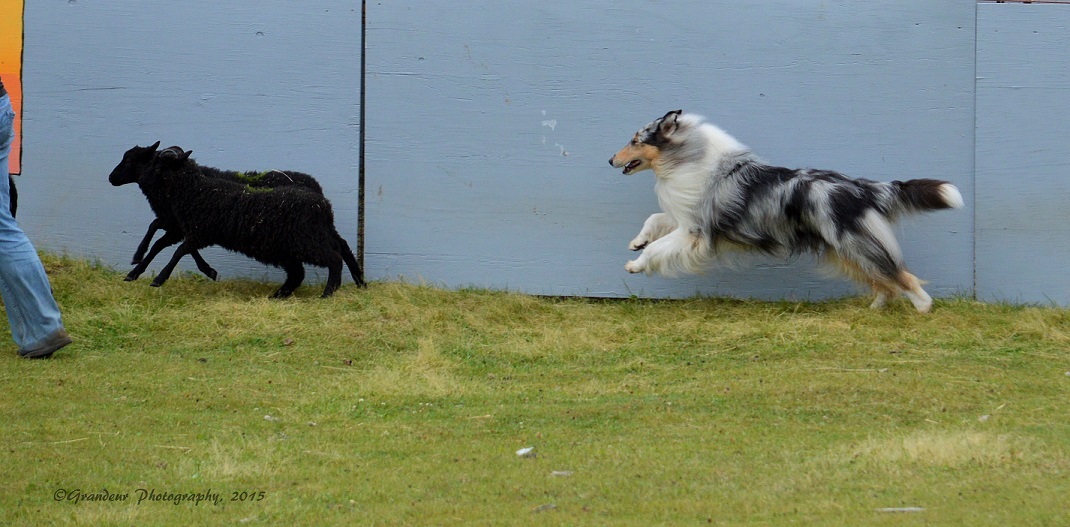 Tank herding in 2015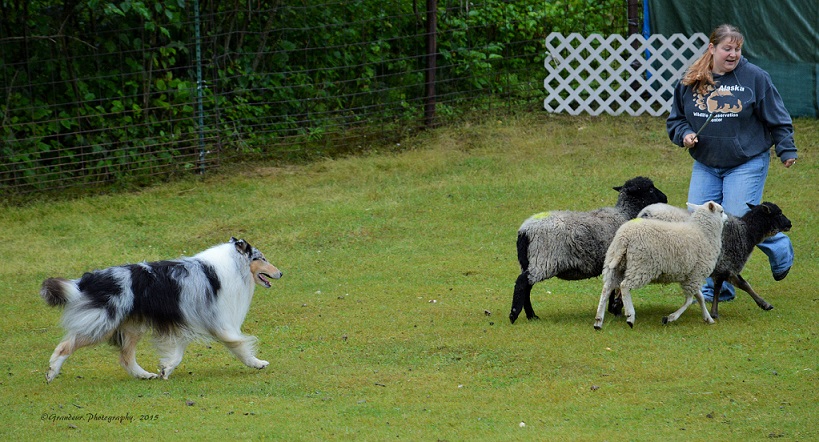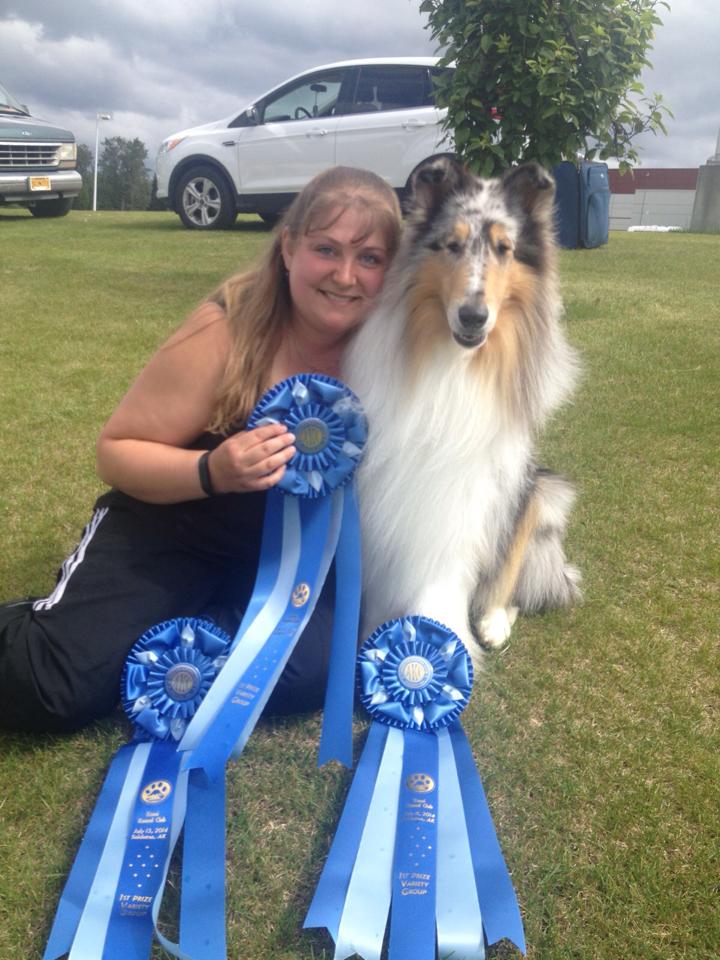 Tank taking 3 Group 1's in Kenai, AK 2014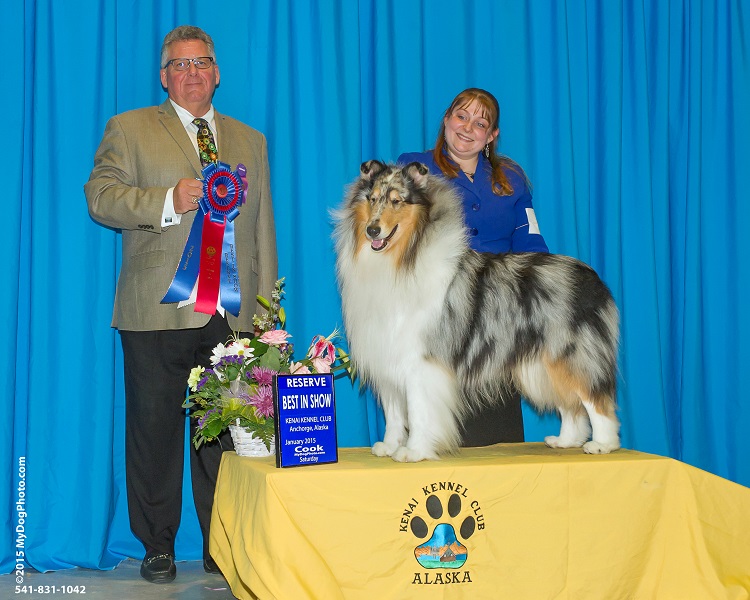 Tank ended 2015 as the number 4 collie in the US all breed points.
Achievements:
Tank's Champion Kids:
CH. TaraDells Totally Busted "
Buster
"
CH. TaraDells Legendary "
Titan
"
CH. Highcroft Attorney at Law "Mason"
CH. Highcroft Debonair "Swagger"
AWARD
JUDGE
DATE
New Champion
Ms. Chris Walkowicz
June 4, 2011
BOB
Mr. Usherwood
July 13, 2012
BOB
Mr. Kellog
July 15, 2012
Group 2
Mr. Usherwood
July 15, 2012
BOB
Mr. Jon Cole
July 28, 2012
BOB
Mrs. Carolyn Herble
July 29, 2012
BOB
Mrs. Anne Indergaard
August 11, 2012
BOB, Group 3
Mr. Larry Adams
August 12, 2012
New Grand Champion
January, 2013
BOB
Mrs. Patricia Trotter
May, 2013
BOB, Group 2
Mr. Charles Olvis
June, 2013
BOB, Group 1
Mr. Bennett
June, 2013
BOB, Group 1
Col. Joe Purkhiser
March 22, 2014
BOB, Group 1
Mrs. Patricial Hastings
March 23, 2014
Reserve Best in Show
Mrs. Murrel Purksiser
March 23, 2014
BOB, Group 2
Mrs. Cindy Meyer
May 25, 2014
BOB, Group 3
Mrs. Annella Cooper
May 26, 2014
BOB, Group 1
Mrs. Debra Long Gschwender
May 31, 2014
BOB, Group 1
Mr. Michael Woods
July 11, 2014
BOB, Group 1
Mr. Butch Macdonald
July 12, 2014
BOB, Group 1
Mrs. Cecilia Ringstrom
July 13, 2014
BOB, Group 1
Mr. Bill Shelton
January 24, 2015
Reserve Best in Show
Mr. Grant Townsend
January 24, 2015

BOB, Group 2
Mr. Robert Vandiver
March 28, 2015
BOB, Group 4
Mrs. Margaret S. Jones
March 29, 2015
BOB, Group 1
Mr. Houston Clark
May 23, 2015
Reserve Best in Show
Mrs. Ann F. Yuhasz
May 23, 2015
BOB, Group 1
Mrs. Kimberly Meredith-Kavanna
May 24, 2015
BOB, Group 1
Mrs. Ann F. Yuhasz
May 25, 2015
~BEST IN SHOW~
Mrs. Kimberly Meredith-Cavanna
May 25, 2015
BOB, Group 1
Mrs. Beverly Capstick
June 27, 2015
Reserve Best in Show
Mrs. Patricia Trotter
June 27, 2015
BOB, Group 1
Mrs. Patricia Trotter
June 28, 2015
~BEST IN SHOW~
Mrs. Sue Goldenberg
June 28, 2015
BOB, Group 3
Mrs. Annella Cooper
July 10, 2015
BOB, Group 2
Mr. Dana Cline
July 26, 2015

BOB
Mr. John P. Wade
January 31, 2016
BOB
BOB, Group 2
BOB, Group 2
Mr. Nathaniel Horn
Mr. Joseph Gregory
Mrs. Nancy Popovich
January 31, 2016
March 18, 2017
March 19, 2017
BOB, Group 1
Mrs. June Penta
May 28, 2017
~BEST IN SHOW~
Mr. Donovan Thompson
May 28, 2017
BOB, Group 2
Mr. Donovan Thompson
May 29, 2017
BOB, Group 1
Dr. Eric Liebes
June 24, 2017

~BEST IN SHOW~
Mrs. Joan Luna Liebes
June 24, 2017
BOB, Group 1
Mrs. Joan Luna Liebes
June 25, 2017
BOB, Group 2
Mrs. Sandy Wheat
July 14, 2017
BOB, Group 3
Mr. Del Richards
July 15, 2017
BOB, Group 2
Dr. Michael Woods
July 16, 2017
BOB, Group 1
Mr. Lanctot
November 5, 2017
Reserve Best in Show
Mrs. Annella Cooper
November 5, 2017
Pedigree

Parents
GrandParents
GreatGrandParents
SIRE

CH. Cheviot Sollis Gallant Boy, ROM

CH. Tartanside Allegiance, ROM
CH. Chevoit Sollis Center Stage
CH. Overland Highcroft Frosting
CH. Overland Gathering Storm, ROM
CH. Overland Powder Blue, ROM

DAM

CH. Tartanside Allegiance, ROM
CH. Fantasy Bronze Talisman, ROM
CH. Tartanside Aliage, ROM
CH. Highcroft Paisley Skies
CH. Highcroft Lode-Ark's Legend
Highcroft Rob-Mar's Rendition